BSc International Business Management
With this global and career-oriented business degree you will have the opportunity to gain valuable experience in Germany and abroad to shape your future in international business management.
ENQUIRE NOW
Overview
Dive into the fascinating world of international business and enjoy a unique experience amongst students from over 40 countries at Gisma University of Applied Sciences at our Potsdam campus. From international business law to strategic management and intercultural communication, you'll learn everything you need to build a successful business career. 
You'll also have the opportunity to spend a semester abroad – choose from a selection of highly international cities such as London, Shanghai, and Singapore. You can combine this with an internship or business project with global companies such as Amazon or Alibaba so that you'll be ready to kick-start your career as soon as you graduate.
This programme is awarded by Gisma University of Applied Sciences.
*Subject to student numbers

Potsdam, near Berlin

36 months

Jan, Apr, Jul, Oct 2024

€ from 9,600 per year

€ 13,125 International students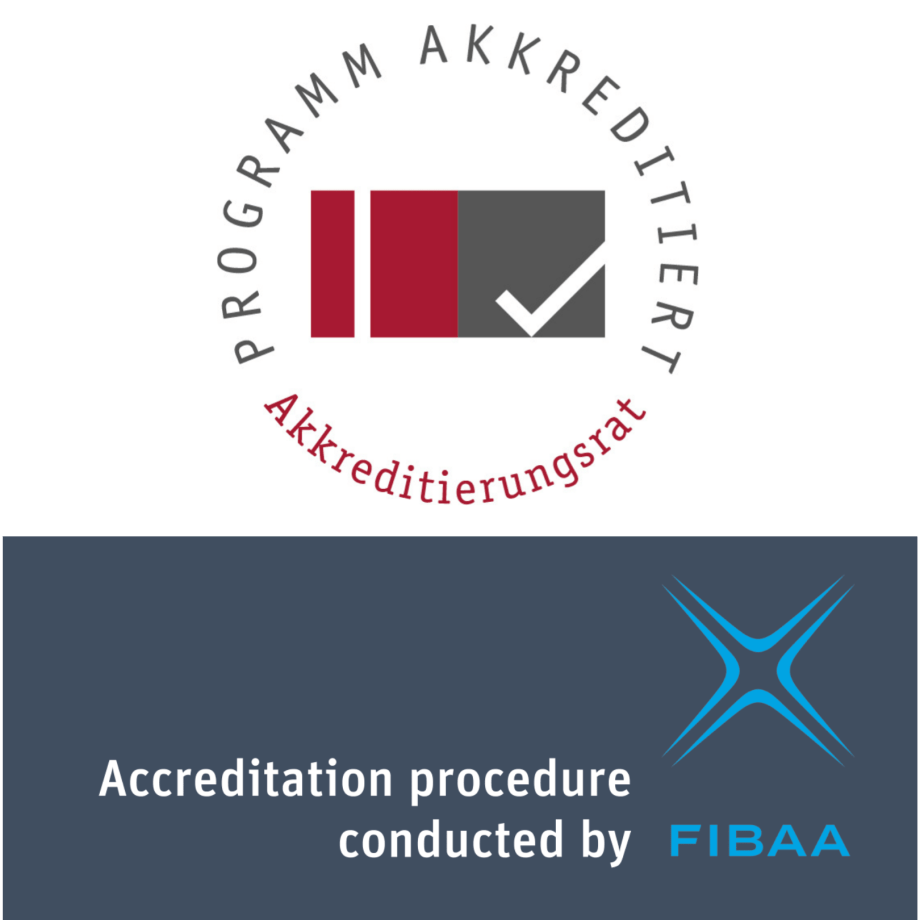 Accreditations and rankings
The degree programme has been awarded the quality seal of the Accreditation Council Foundation. It was first assessed by FIBAA in a multi-stage accreditation procedure and then successfully accredited by the Accreditation Council Foundation. The Accreditation Council Foundation is a joint institution of the federal states of Germany for quality assurance in study and teaching at German universities. The quality seal of the Accreditation Council Foundation certifies, among other things, compliance with academic standards and formal requirements.
Gisma University of Applied Sciences is state recognised. It also benefits from AMBA accreditation, which was awarded for the Global MBA and is an honour shared by only 6 universities in Germany and 2% of all universities worldwide. The prestigious AMBA accreditation represents innovation and excellence in education.
Our study guarantee: start your studies online or on campus
As an educational institution, we want to ensure that our students can start studying with us no matter the circumstance and we want to give you every chance to progress with your education and build a successful career. At Gisma we want to assure you that there will be an option for you to study and start your programme on time regardless of whether the campus is open or closed. We also want to assure you that you will still be able to study in the case where the campus is open but due to health concerns or travel restrictions, you are unable to attend the classes in person on time.
With this in mind, all of our students will have the option to start their studies online. Students will learn in a hybrid format, which is a live learning experience and allows for interaction with the tutor, as well as the ability to work in student groups. Students will then have the option to complete the programme on-campus in Germany as soon as possible.
Who is the programme for?
The programme is perfect for those who are interested in developing an international career in the business world. This degree is for those who want the tools for success in any international organisation, from small innovative start-ups to large well-established corporations.
What will you learn?
This programme covers a broad range of topics from all areas of international business management. You'll acquire a range of competencies; intercultural, digital, and general business competencies. This includes global supply chain management, international marketing, ethics, leadership, and finance. Combining lectures with international experience and practical work projects with leading companies such as Amazon, this programme will equip you with the skills and networks you need to build an international business career.
How will you study?
Gisma University of Applied Sciences supports flexible and individual learning by applying a systematic hybrid learning scheme.
You will spend part of your lectures in class at our Potsdam campus. These face-to-face phases are complemented by e-learning sessions. You will work on cases, reflect on readings, take part in online discussions, and participate in group exercises and projects. This variety of learning methods is part of our unique teaching strategy, which includes student-centred pedagogy, project-based learning, collaborative learning, and personalised coaching.
Potsdam, your next study destination
This high-tech, modern campus, situated just a short distance from the vibrant city of Berlin, serves as a dynamic hub for our University of Applied Sciences students. Here, students engage in both in-person and virtual learning experiences. The architecture and building concept of the campus are designed with intelligence and efficiency in mind, creating spaces that emphasise flexibility, networking, and collaborative working. This environment is tailor-made to foster innovation, providing an exceptional setting that's ideal for collaborative teaching and learning methods. The campus features 'Open Spaces' that cater to various needs, including relaxation, networking, individual study, and group work. The proximity to Berlin further enriches our students' academic and cultural experience, connecting them to a broader spectrum of opportunities and inspirations.
The camera and sound technology in the classrooms is specifically suited to enable blended or hybrid teaching formats, where students on and off campus can join the class and connect in real-time, benefitting from seamless peer-to-peer interaction with each other. The campus is in a great location, with neighbours such as SAP Innovation Centre Network right across the road.
Potsdam is the picturesque capital city of the state of Brandenburg. It is known for its highly reputed science institutions, technological innovation, economic growth, a unique culture, and high living standards. It is a world heritage site, with the backdrop of outstanding nature. The city also benefits from being the twin city of Berlin, the German capital. The two cities share a border, and the journey from Potsdam Main Station takes just 20-30 minutes to the centre of Berlin, where you can find an inviting cultural, retail and nightlife scene.
Learn from the very best in the field
You can be confident that you will be learning from some of the most accomplished and industry-respected professionals. Our professors at Gisma University of Applied Sciences are experts in their respective fields, with a wealth of experience and knowledge. They have come from and worked with some of the world's largest and most prestigious companies, including Amazon, United Nations, Harvard, 2020 Tokyo Olympic Games, KPMG, Boston Consulting Group, IBM, and Allianz.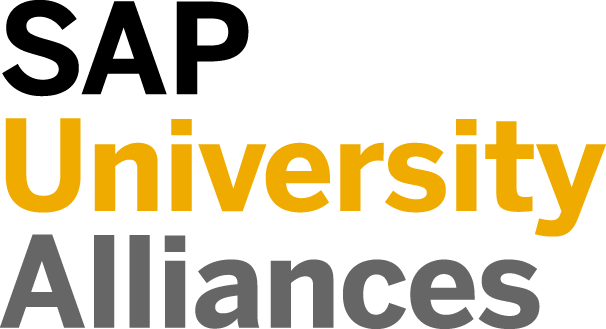 Gisma is a proud member of the prestigious SAP University Alliances program, offering unparalleled opportunities for our students and staff. This exclusive partnership provides access to SAP's academic materials, internships, and graduate programs. Our students benefit from open access to SAP training, certifications, and exciting workshops on cutting-edge topics. With the support of SAP experts, we equip our students for success in the digital economy. Join us to thrive in the world of endless possibilities.
Recognised
Gisma University of Applied Sciences is state recognised
Top 2
Germany has the 2nd best unemployment rate in Europe at 3.4%*
*Statista
€45,000
Chance to earn to €45,000**, the average graduate salary in Germany
**Business Insider
90+
Join a network of students from over 90 nationalities across the globe
Programme structure
International Business
Introduction to Globalisation
Comparative Country Studies and Political Risk Assessment
Project Management
International Business Law
Global Sourcing
International Marketing
Leadership in a Digitalised and Globalised World
General business competencies
Digital Marketing Methods
Financial and Cost Accounting
HR Management
Financial Reporting
Fundamentals of Strategic Management
Finance and Investment
Sustainability Management
Digital competencies
Digital Transformation and Cases
Economics and Digital Economics
Innovation Management in a Digital and Globalised World
Action and intercultural competencies
Foreign Language
Intercultural Skills and Ethics
Creative Problem Solving and Strategy Development
Internship
Study Abroad, Internship or Career Development Semester
Scientific and Methods Competencies
Mathematical Foundations
Statistics
Academic Writing and Research Methods
Bachelor Thesis
Your Future Career
The BSc International Business Management covers a broad range of international topics so that you can choose to seek employment in various fields such as finance, marketing, HR, and general business. You may also pursue a postgraduate degree such as a Global MBA or an MSc in International Business Management.
To help support you in your future career, this degree includes a Career Development semester, in collaboration with the Gisma Career Centre. This semester is part of your third year and will help you prepare for a career that makes the most of all the skills you have learnt throughout your programme.
Fees and Entry Reqs
Standard Tuition Fees
New pricing – from 31st March 2023:
Germany/EU applicants – € 9,600 per year
International applicants – € 13,125 per year
For more details on how to apply, fees, additional savings of up to 15%, and your funding options, please speak to our programme consultant.
Regional incentives are available for students from certain countries. Please check the fee section on this page.
Entry requirements
General university entrance qualification
English proficiency: B2 (IELTS 6.0 overall, no less than 5.5 in any component) or equivalent scores in TOEFL iBT, Pearson PTE or Duolingo. Gisma also offers an English test free of charge.
For students who need additional support to reach entry requirements
If you need additional support to meet the entry requirements for one of Gisma's bachelor's degree programmes, the Gisma Foundation Programme is designed for you. It provides you with English language support and subject-oriented, cognitive and methodological skills required to accelerate into a bachelor's programme. Successful completion allows you to directly progress onto bachelor's level modules.
For students who have educational degrees from India
Students who have acquired their education degrees from India will need to follow the Academic Evaluation Center (APS) process required by The German Foreign Affairs Ministry. For more information, please refer to our APS Step-by-Step Guide webpage.
Flexible payment plan
Gisma offers flexible payment plans that allow you to spread the costs of your programme fees in up to six instalments. A refundable* deposit of €3,000 is required to secure your place, and the remainder of the tuition fee is to be paid after the start of programme in accordance with your payment schedule.
Payments are accepted by bank transfer, or via one of our payment partners – Transfermate and Stripe. If you have any queries regarding payment options, please speak to a programme consultant.
*Terms and conditions apply.
Financing your studies
BAföG 
In many cases, non-German citizens studying in Germany are entitled to apply for the BAföG (Federal Education and Training Assistance Act) grants-and-loans system, if certain conditions are met.
If foreigners have the prospect of staying in Germany and if they are socially integrated, they are considered eligible for funding. For more information and to check your eligibility please use the link below (which can be translated into English).